It's time to get things done this month for my new group, Early Mercantile Gathering. I'm working on a new painting that I'll be offering on the 15th of the month.
I'm new to gardening. I used to help my Grandmother, Deedee plant her huge garden each spring. We planted potatoes, watermelon, "musk melon", corn, you name it!
But since we have both forgotten how to plant, it's all new to me now. It's hit or miss, and i'm learning every day. It's so much fun, and Marshall helps me to learn, as he digs up most things I plant, so they have to be planted again. UGGHh!!!
But Mommie got smart, and got him a pool.
And I have to show you these beautiful birdhouses I bought for myself from Marshall. They are so nice, I just LOVE them!!!!!! I got them from a nice gal on ebay. Here is her store:
Olde American Primitives
Sneak Peek at my Columbines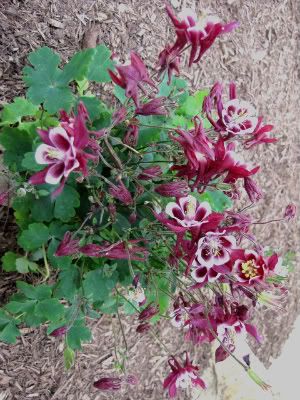 And the last birdhouse in my little veggie garden:
And here's a picture of my little girl, Mitta, with all four feet off the ground. She thinks she's a movie star..
Okay, so off to make my Deedee breakfast, then back out to my fold up table.
Hope you all have a wonderful week!!!!!
Hugs
Annie