Howwwwwwwwwdee!
I'm back from the gloomies, and ready to get working!
It's frustrating to make your living with your heart in your hands, because sometimes big girl life gets in the way, and you just can't create!
Thankfully, I am inspired by the gals who surround me in my cyber world. I can feel my creativity blossoming every minute thanks to them! Thank you all for just being you!
I was gazing at Mr. Bibbles the other day, and decided to make a rendition of him...he's going to be a present for my husband...Whatcha think?
Here is a picture of a project I did for myself. I had some scrap lumber from building the house, actually part of one of my interior doors, so I painted it up. This was 2 years ago. Well some of you know that I was able to purchase my grandparents' door to the home they first built to raise their family in. This is the hardware to that door. It was broken, and so I replaced it, but was adamant about saving it. My husband thinks I'm a pack rat. Well during my latest cleaning frenzy, I found it, and decided to apply it to something so that it would not get misplaced...I think it makes a neat assemblage piece.
And here is my "oldie girl". Ginger was a little pup when we rescued her...now she's 14. She's my buddy.
And Frankie with Nonnie (pretending to be a good boy)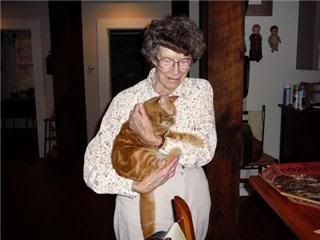 Have a wonderful week all...:)