I bought this little Minerva on eb@y a couple of weeks ago. When I got her home, I wasn't as thrilled with her as I usually am with my castaway dolls. So I hung her up in my studio, and promised her daily that I would make her spirit shine.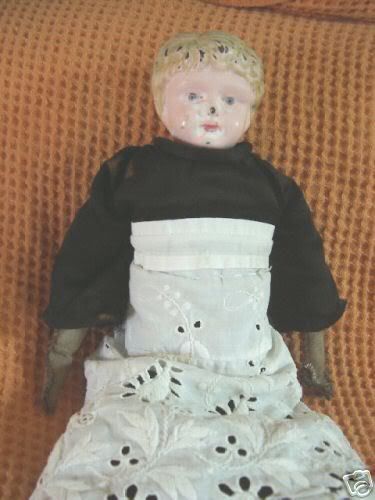 Last night, while working on Estella and sipping Chardonay, I took the little Minerva down and removed her clothing. What I found beneath was, to me, quite beautiful. What I didn't like was the cool tone of her skin against the warm, aged plum color of her body.
So I grabbed my toolbox and chose my paint and repainted her sweet face with a hit or miss type of painting method. Then I hand rubbed her prominent features down and antiqued her. This is how she looks now.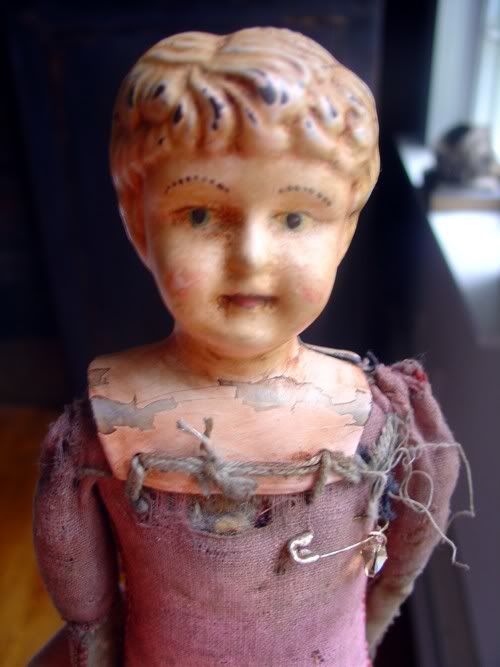 Finally, I added a rusty safety pin and a Sworavski Crystal heart, a kiss on the cheek, and displayed her proudly on one of my 8x8 timbers, under a beautiful assemblage by etsy artist, sewmanyroses.
She just couldn't be happier.